Summer break is coming up. That means no more Zoom classes or in-person school. These vision board ideas for kids we hope will not only keep the kids busy this summer, but help them plan for a great 2021-2022 school year. In this article, you'll find fun vision ideas for kids that will help them see their goals materialize and keep them busy for at least a few hours.
What is a Vision Board?
Before we get into the ideas to inspire your vision board making journey, lets clarify what a vision board is.
A vision board is a tool used to help you clarify what you want by providing a visual reminder of your goals. It can be photos, phrases and affirmations or even a list of keywords that remind you of what you are working toward. Seeing your wants and goals helps to focus your intentions. Those intentions influence your actions and those actions help make your vision board items a reality.
Technically your smartphone wallpaper could be considered a vision board. You look at the image several times a day and it evokes feelings, and reminds you of whatever the picture is about. In this article, we are going to look at digital tools to build a DIY vision board. We will also include DIY vision board ideas with paper, drawings, photos and other art supplies. If you don't want to DIY, we've also researched the best vision board kits you can buy. Don't worry we'll answer your questions such as what to put on your vision board and how to use it.
Here are our favorite 10 ideas to create a vision board for kids. Each idea includes what we love about it and what to watch out for. You've got goals to manifest, so let's get started!
Online Vision Board Ideas for Kids
1. Build a Free Online Vision Board Using Canva
Canva is a free graphic design software that you can use to create all kinds of projects. From social media posts, to posters and everything in between, Canva creates it all.
To use Canva, simply go to Canva.com and sign up for a free account. It does offer a premium version for around $13 a month, but you don't need it. When you sign in you'll see something like this:
You can make the canvas any size by choosing custom, but there are many pre-made sizes available. We recommend using the poster option. The poster canvas measures 18 x 24 inches, so you'll have plenty of room to work with. If you want to print out your vision board at home, you can put it all on a letter sized piece of paper or print out 3-4 sections and work some glue magic to piece together your "poster."
Why we like Canva: Aside from being free and pretty easy to use, we like that you can use hundreds of free stock photos, or upload your own photos to the software. It also has a massive collection of Google fonts and lots of free shapes and templates to use in your project. Teens who have access to a smartphone can download the Canva app to create and edit their vision board.
What to watch out for: Canva has a learning curve. While it is easier to use than PhotoShop, Canva may be a little advanced for your younger children.
2. Build a Free Online Vision Board with Google Drawings
Google Drawings is available to people who have a Google account. If your kids are doing virtual school, they might already have a Google Classroom account and therefore have a Google account.
The Google Drawing interface is part of the Google Docs platform. When you sign in to your Google account to get into Google Drawing, it looks something like this:
The Google Drawing platform is straightforward. You can use Google fonts, or get photos from a Google search. It has the same functionality as Google Docs, but you are creating a picture, not writing out a document. You can save the vision board to your Google Drive or download a PDF, JPG or PNG file.
Why we like Google Drawing: Many people already have a Google account and use Google products. There's no need to sign up for anything else. The drawing function of Google Drawing is basic, but that's great. Kids don't need a ton of choices. they just need to think about what they want to say and use a few photos and words to bring the vision board to life.
What to watch out for: You do have to have a Google account to use Google Drawing to create a vision board. So If you do not have an account, you will have to create one. If your child is younger than 13 years old, you can create a Google account for them using Family Link. Creating an account takes about 15 minutes, so plan to invest a little time in getting everything set up.
3.Use Pinterest to Create an Online Vision Board for Kids
Who doesn't love Pinterest? Ok, maybe we're a little biased. If you haven't used Pinterest, "Pinterest is a visual discovery engine for finding ideas like recipes, home and style inspiration, and more." You can learn more about the social media platform here.
Pinterest is a great place to look for ideas, get inspired and see what you are trying to do. Since a vision board is a visual project, Pinterest is, in a sense a giant vision board. You have to create a free account.
Pinterest allows you to keep the boards you create private, so that you are the only one who can see your pins. You can gather tons of ideas to a board and then scroll through them each day. You could create a board about your favorite things to do, what you want to be as an adult, favorite motivational quotes and or photos of places you would like to visit. Here is a quick Vision Board for 2022 created in a few minutes:
What we like about it: Creating a vision board on Pinterest is easy and can literally take just a few minutes. The vision board aesthetic is already there. Photos, quotes, feelings, colors and everything you could want is at you fingertips. You can keep your Pinterest boards private and set your account to be less accessible to other Pinterest users.
What to watch out for: Pinterest has BILLIONS of pins, which can lead to overwhelm. Also you can go down a wormhole and end up spending more time futzing over an InstantPot recipe for Pad Thai rather than helping your kids build a vision board. In other words, Pinterest is a major time suck.
Paper DIY Vision Board Ideas for Kids
4. Turn Recycled Magazines and Junk Mail into Dreams
Got junk mail? Do you have magazines, fliers and other papers laying around. Use them to make a vision board. You'll need glue, scissors, photos of items you want or that convey a feeling. For example, a coupon flier might have a picture of a pizza. Pizza nights with with family make you feel happy. Feeling close to family is something you want to manifest.
What we like about it: There's something extremely satisfying about touching paper and getting sticky glue fingers. If you have young children, chances are you have tons of art supplies. Scissors, glue, paper or poster board, cardboard. Using one thing to create another whole different thing stretches the creative thinking muscle. Connecting dots, creating stories and making something all feed the soul, whether you think you are creative or not.
What to watch out for: Paper cuts. Seriously, though it may take more creativity and time to gather supplies. Who has actual magazines anymore? Sales fliers are pretty limited, but gift catalogs jam mailboxes in September, so you might get lucky there. You can buy old magazines for cheap at garage sales, thrift stores and yard sales. Ask your friends over 40 years old if they have any.
5. Use Original Artwork for the Vision Board
Here's a vision board idea that does double duty. Have your kiddos make their own pictures and art for their vision board. For example, use their painted handprints to list off their 5 goals for the school year. Or have them draw pictures of what they want to be when they grow up. With a little elbow grease, the kids will create a vision board that really means something to them and you get an awesome keepsake. You'll need to gather art supplies, and set aside a good amount of time to create.
What we like about it: Like we said before, this vision board idea creates a keepsake to revisit 5, 10 or even 20 years down the road. It also gives your child full creative control and a way to express who they are.
What to watch out for: This DIY vision board will take time and thought to make, which may test the patience of your little one. Making art projects may not appeal your teen or preteens.
6. Use Free Photos, Printables and Vision Board Kits
If you have a printer and plenty of ink, you can find free photos, printables and even vision board kits online. We love Pexels, Unsplash and Pixabay for finding free stock photos. You simply type in what you want a photo of and browse away. You can collect (by signing up for a free account) or download the photos to your computer. You can use the images in one of the digital vision board platforms listed above, or print out the photos for your paper vision board.
Printables are also free on many sites including this one. See our free printables — we don't require an email or anything. Here are a few other cool sites that offer free printables.
Chicfetti.com — Specializes in home and party decor, but the free printables selection has plenty of options if you are looking for vision board inspiration. You will have to enter in your name and email in order to download the design.
Burlap and Blue — This site has nursery and home printables. It is a little cumbersome to navigate, but you don't have to put in your email to download the artwork. When you click on a free printable, it will take you to Google Drive where you can download or save a copy of the file to your computer or Google Drive.
What we like about it: Free printables are a convenient way to find inspiration for your child's vision board. The artwork is already done and you simply have to print it out and arrange it on your vision board.
What to watch out for: Downloading items from sketchy websites can also infect your computer with viruses or malware. Be careful. if the site looks shady, it probably is.
7. Buy a Vision Board Kit
Ok so you can still create a vision board for kids even if you hate arts and crafts or don't want the kiddos to be online. Buy a vision board kit. A vision board can look however you want it too. It doesn't have to look like an art project from summer camp. Etsy offers some really cool, creative vision board ideas that will endure time and decor trends. Here are a few of our faves.
Photo Collage: Vision Board for College Students and Teens
Photo collages are a great way to spruce up a teen bedroom and add a vision board aesthetic. It wouldn't scream "hey I'm a vision board." It would just create a vibe and remind you of what you want.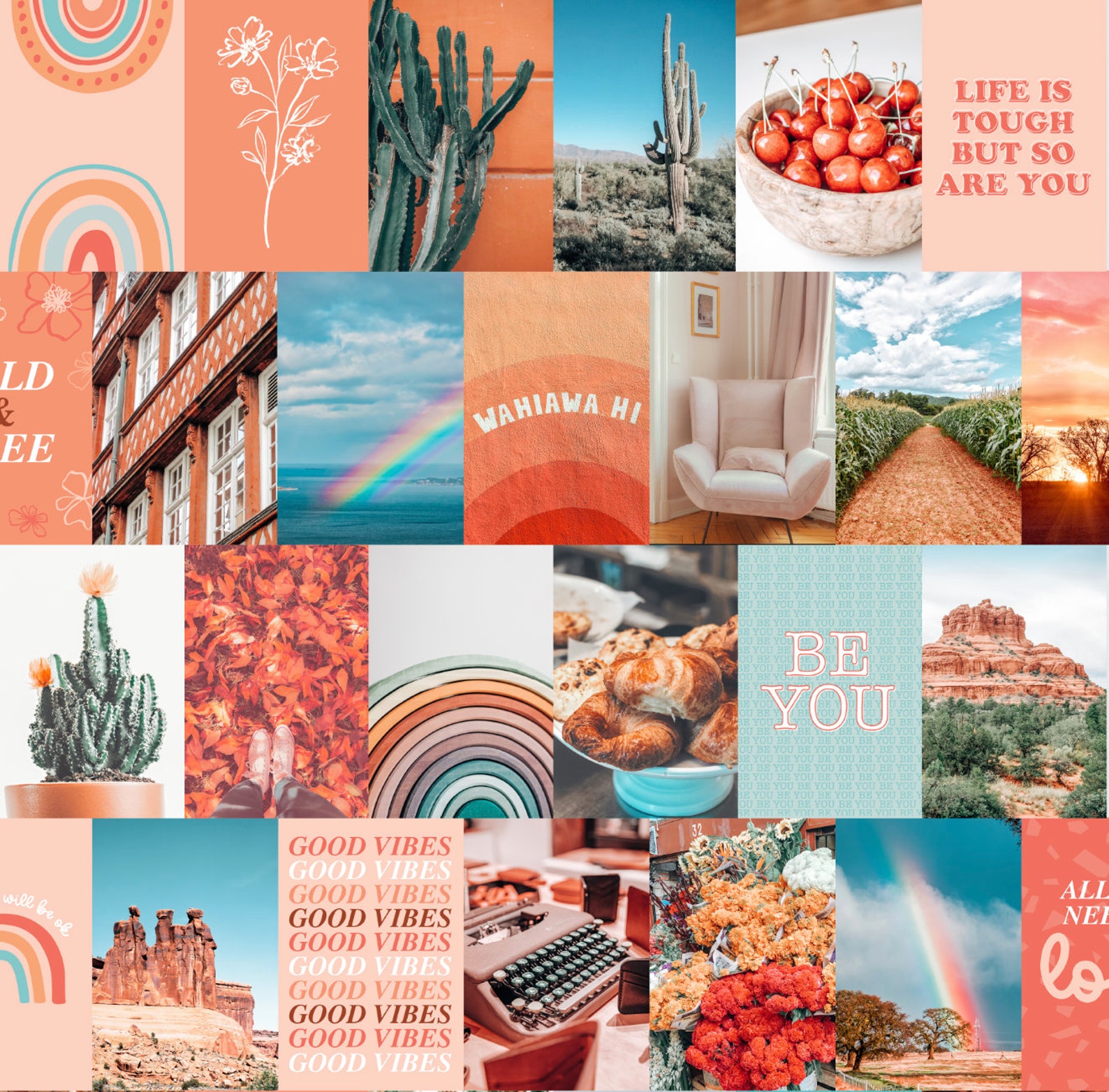 This one from ArtivoCollageKits is a bestseller and we can see why. It has beautiful colors and positive messages that instantly lift the mood. They have 32 wall collages to choose from for around $20. These are digital downloads, so you'll need a printer to print the photos. You can also print the photos at a local drug store or discount store.
Vision Board Kits
Etsy also sells vision board kits such as this cute one from OceanPrintables that is less than $10. As you can see, the categories and what to put on the vision board is pretty much done for you. Etsy has hundreds of items to choose from.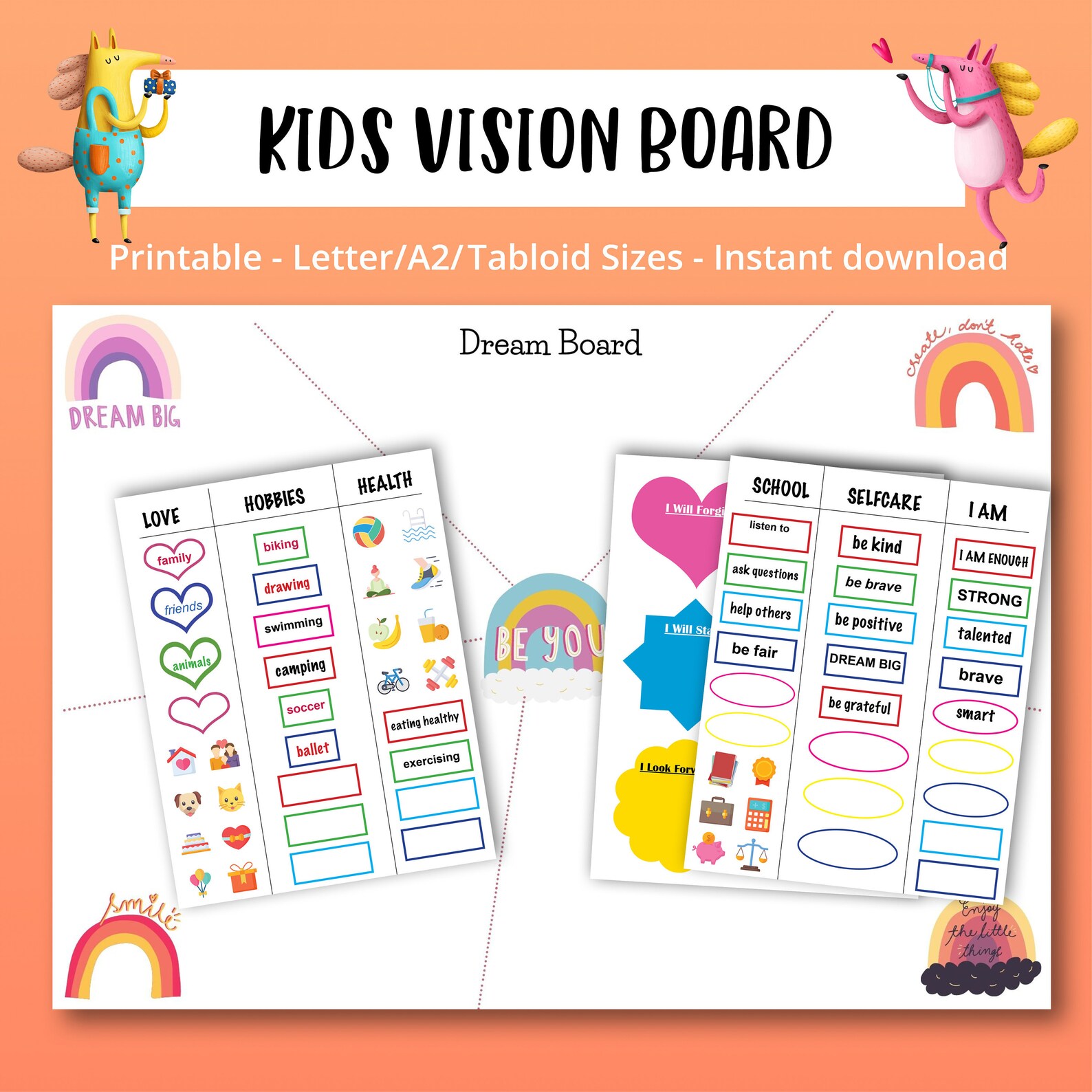 What we like about it: The vision board is done for you. All you have to do is find a vision board kit that reflects what your goals are and your design aesthetic. If you haven't thought about your goals, you can check out this guide on goal-setting.
What to watch out for: When you buy a vision board kit or done-for-you anything, it lacks a certain amount of self expression and therefore intentions that make a vision board so powerful. A vision board works because it contains your intentions and desires. This is not to say that buying a vision board will not work for you, you just have to find one that captures the essence of your intentions.
8. Use the Hay House Vision Board App
Hay House is the leader in creating a positive mindset and self-improvement. The app allows you to create a vision board on your phone using your own photos, along with affirmations from the app and stickers. There are in-app purchases and the designs are pretty limited. But if you have a child who loves to play on an iPad, he or she might enjoy creating a vision board on a tablet. Here are a few screenshots of the Hay House Vision Board app.
What we like about it: The vision board on your phone is easy to use and has enough free features to build a pretty good vision board using a smartphone or tablet. The app has quotes, can access your phone's photos and you can add some embellishments at no cost. For a vision board app, it's a good tool to help you manifest your desires.
What to watch out for: The Hay House vision board app is free on the Apple App Store or through Google Play. But there are in-app purchases. A vision board sticker, for example, costs $1.99. The in-app purchases could become a nightmare if your child is buying stickers and other items.
9. Journal Your Vision Board
The power of using a vision board comes from your intentions, not what kind of glitter you used or how fancy the design. While creating a visual representation of your dreams and goals is fun, it may not be for everyone. Some kids just want to quietly contemplate and write about their feelings. Journaling can be a powerful manifestation tool because your words state your intention. When the words are written onto the pages of a journal, you are putting intentions out there and setting things into motion.
While it's nice to have a journal to write in, don't get too bogged down in the tools. You can jot down your vision board on a napkin and it will still work.
What we like about it: Not everyone wants to express themselves through visual art. Writing is a powerful form of self expression. Writing a vision board gives kids who want more privacy and quiet, a chance to manifest. There's something about letting the words flow out of you that is pure magic.
What to watch out for: Journal prompts related to vision boards will help keep the journaling focused on what the child wants, not what they don't want.
10. Create a Jar of Intentions and Pull One a Day
This list only contains 10 ideas of vision boards for kids, but there are infinite ways to create a vision board. One of our most creative vision board ideas is to fill a jar with intentions and pull out one a day. Think of this vision board as writing little love notes to yourself.
Fold up phrases, photos, quotes (here's all of the quotes we have gathered), journal prompts and fill a container with the papers. At the beginning of each day, draw out an intention and read it. Think about what it means and how you can apply it to the day ahead. Make manifesting a game! At the end of the day or during dinner, you can compare notes on what the intention was and what actually happened.
What we like about it: This is a fun way to set an intention and manifest daily. It might motivate your child to enjoy the mornings a little more. Anyone can do it and everyone should. Why not make it a family activity?
What to watch out for: If your child loses interest or is disappointed on how the intention and the day lined up, tweak it as you go. Don't be afraid to tinker with the idea until it fits your family, or abandon it all together.
Steps to Create a Vision Board for Kids
Whether you create an online vision board or paper one, the steps to making a vision board are the same. Note that there is no wrong way to make a vision board. One method is not more powerful. Whatever you choose is the right path for you.
Decide your medium and gather supplies to make a vision board.
Think about your intentions. What do you want to concentrate on?
It's important to focus on 1-3 areas of a kid's life, otherwise the visualization is too vague. The areas have to be ones that the child is interested in, not what you want. You can start with these questions. Have the children choose their top three.
What are some of your favorite things, interests or activities?
What parts of your life bring you the most joy?
Where do you want to visit?
My biggest dream would be to …
When I grow up I want to …
When I think of my family I think of …
If I had all of the money in the world I would buy …
I want to learn how to …
What Should be on My Vision Board?
You should include any item that inspires joy, motivates you to keep going for your goal and that makes you believe in your dreams. A vision board is personal. For example you could simply put a picture of a sunflower on it and the word bloom. Every time you look at the vision board you would subconsciously or consciously be reminded that you want to grow. A sunflower is your favorite flower and it reminds you of your Auntie's backyard.
Whatever you choose, you have to believe in it. Don't put anything that makes you feel less than or defeated. Be creative and authentic in your choices. Have it reflect who you are.
How to Use the Vision Board
A vision board, whether it be a poster, or on your phone, should be somewhere visible. You need to see it daily if not many times a day. Place it near your bed so you can see it when you first wake up and when you go to sleep at night. Have your child pick one photo or phrase to think about. Discuss it with your child to help the words sink in.
If your child is old enough, have him or her say affirmations that relate to the goals and dreams on the vision board.