Dental assistants help with a variety of tasks in a dentist office. They care for patients, keep records, and schedule appointments. The duties may vary depending on the office where they work.
1. If You Like People, You'll Enjoy This Job.
This job appeals to people who like routine and procedures. It is also for someone who enjoys solving practical and tangible problems.
The work as a dental assistant is detail-focused, rather than idea-based and the workplace has a clear structure of who does what.
That being said, dental assistants often work directly with patients, making it a good choice for a social butterfly.
Dental assistants make sure patients are comfortable in the dental chair and prepare them for treatments.
They also take a patient's medical history, blood pressure, and pulse before a procedure; explain what will be done; and talk to patients about oral care.
2. Duties: Helping People Tops the List
Not only do dental assistants help patients, they help dentists during a procedure by passing instruments and holding equipment such as suction hoses, matrix bands, and dental curing lights.
Other tasks include preparing the treatment room and making sure that instruments and equipment are sterile.
Dental assistants also may document the procedure that is done and schedule follow-up appointments.
Some dental assistants are trained to take x rays of teeth and the surrounding areas.
Each state regulates the scope of practice for dental assistants. Some states let dental assistants polish teeth to remove stains and plaque from the enamel or apply sealants, fluoride, or topical anesthetic.
3. Sample Resumes For Dental Assistants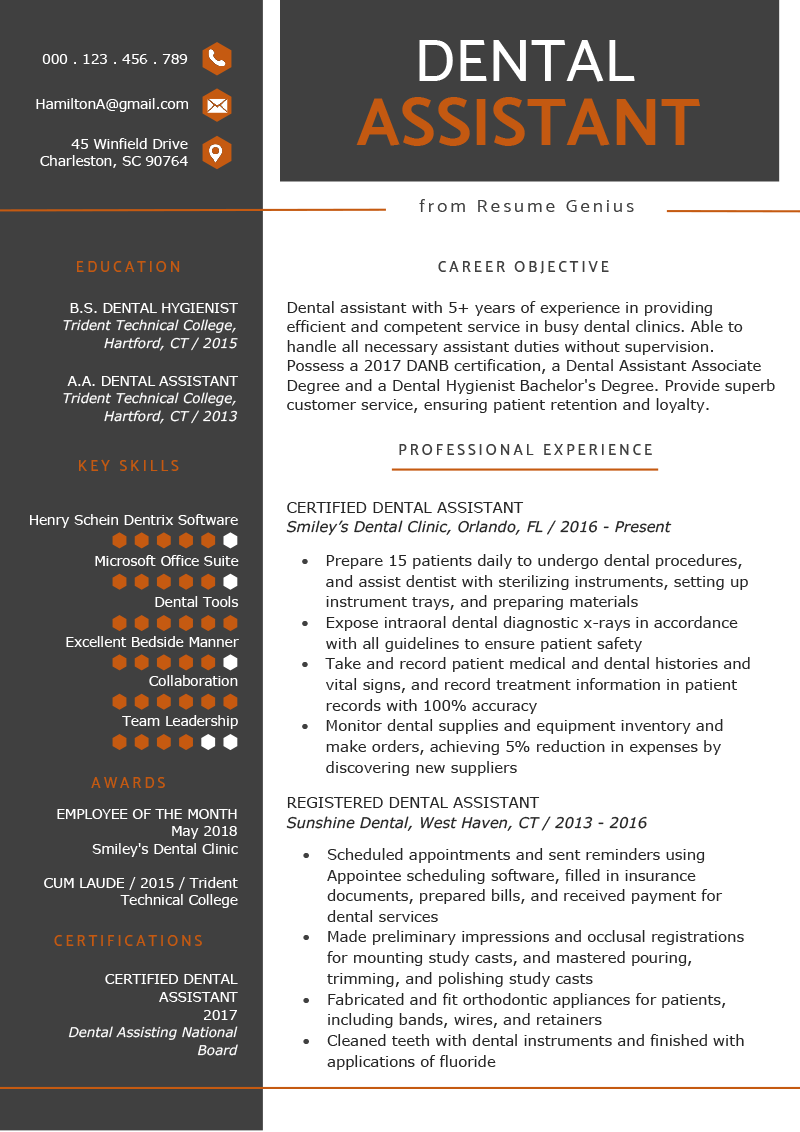 4. Work: 90% of Them Work in Dental Offices
Dental assistants held about 346,000 jobs in 2018.
Dental assistants work under the supervision of dentists and work closely with dental hygienists in their day-to-day activities.
Dental assistants wear safety glasses, surgical masks, protective clothing, and gloves to protect themselves and patients from infectious diseases.
They also must follow safety procedures to minimize risks associated with x-ray machines. Most dental assistants work full time. Some work evenings or weekends.
5. Training: Not all States Require Credentialing
Some states require dental assistants to graduate from an accredited program and pass an exam. Most programs are offered by community colleges, although they also may be offered by vocational or technical schools. See a list of all state dental boards to find out what the requirements are in your state.
Many dental assisting programs take about 1 year to complete and lead to a certificate or diploma. Programs that last 2 years are less common and lead to an associate's degree. The Commission on Dental Accreditation (CODA), part of the American Dental Association, accredits about 250 dental assisting training programs.
Accredited programs include classroom and laboratory work. Students learn about teeth, gums, jaws, and other areas that dentists work on and the instruments that dentists use. These programs also include supervised practical experience.
High school students interested in a career as a dental assistant should take courses in:
6. You'll Need to Have These Tech Skills
Dental assistants use accounting software, email and medical software.
These might include Schein Dentrix; Kodak Dental Systems Kodak SOFTDENT Practice management software PMS; Patterson Dental Supply Patterson EagleSoft; The Systems Workplace TDOCS according to O-NET.
You'll also have to know how to use office software including word processing and spreadsheet software.
7. Dental Assistants Pay: Median is $38,660 a Year.
The median annual wage for dental assistants was $38,660 in May 2018. The lowest 10 percent earned less than $26,940, and the highest 10 percent earned $54,800 or more.
Employment of dental assistants is projected to grow 11 percent from 2018 to 2028, much faster than the average for all occupations. Ongoing research linking oral health and general health will continue to increase the demand for preventive dental services.
Dentists will continue to hire dental assistants to complete routine tasks, allowing dentists to work more efficiently. As dental practices grow, more dental assistants will be needed.
8. Customer Service is a Must-have Job Skill
Medicine and Dentistry
Knowledge of how to diagnose and treat human injuries, diseases, and deformities. This includes symptoms, treatment alternatives, drug properties and interactions, and preventive health-care measures.
English Language
Knowledge of the structure and content of the English language including the meaning and spelling of words, rules of composition, and grammar.
Customer and Personal Service
Knowledge of principles and processes for providing customer and personal services. This includes customer needs assessment, meeting quality standards for services, and evaluation of customer satisfaction.
Active Listening
Giving full attention to what other people are saying, taking time to understand the points being made, asking questions as appropriate, and not interrupting at inappropriate times.
9. If Your Love Language is Acts of Service, This Job is for You.
This job means providing service to others and having co-workers in a friendly non-competitive environment. In his book, 5 Love Languages author Gary Chapman outlines the ways people give and receive love. Helping other people is one of those languages.
While the book is focused on relationships and marriage, the principles of the 5 Love Languages translates to loving your job. A dental assistant must put other people first and take care of them. Whether it's assisting the dentist or helping calm patients before a procedure, this job is a service occupation.
10. Additional Resources