In 2019 the median salary of flight attendants was $56,600 a year. The average salary of all flight attendants in the United States was $56,230, according to 2020 OES data.
Flight attendants provide routine services and respond to emergencies and keep airline passengers safe and comfortable. If you love to travel and have a knack for customer service, this could be the profession for you. A free spirited person who doesn't want the same work routine everyday and who loves people would thrive at a flight attendant career.
Positive Affirmations for Flight Attendants
My work helps to make air travel safe and comfortable for people.
I love helping people.
I communicate clearly and compassionately.
When the flight is stress-free I have accomplished my goal.
Safety is my number one goal.
I breeze through in-flight turbulence with ease.
I stay calm in the face of conflict.
I radiate joy.
My work helps to make air travel safe and comfortable for people.I love helping people.
I communicate clearly and compassionately.
When the flight is stress-free I have accomplished my goal.
Safety is my number one goal.
I breeze through in-flight turbulence with ease.
I stay calm in the face of conflict.I radiate joy.
10 Fascinating Facts About Flight Attendants
1. They Do Way More Than Serve Drinks
Did you know that airlines are required by law to provide flight attendants for the safety and security of passengers?
The primary job of this occupation is to keep passengers safe, ensuring that everyone follows security regulations and that the flight deck is secure.
They also make flights comfortable and as stress-free as possible for passengers. They may deal with disruptive passengers. They also:
Participate in preflight briefings with the pilots, to discuss cabin conditions and flight details
Conduct preflight inspections of emergency equipment
Demonstrate the use of safety equipment and emergency equipment
Take care of passengers' needs, particularly those with special needs
Reassure passengers during the flight, such as when the aircraft hits turbulence
Administer and coordinate emergency medical care, as needed
Provide direction to passengers, including how to evacuate the aircraft in an emergency
2. The Flight is Just Part of Their Workday
About an hour before takeoff, the pilot may conduct a preflight briefing with flight attendants about relevant flight information. This includes the number of hours the flight will take, the route the plane will travel, and weather conditions.
Flight attendants check that emergency equipment is working, the cabin is clean, and there is an adequate supply of food and beverages onboard.
Attendants greet passengers as they board the aircraft, direct them to their seats, and provide assistance as needed.
They demonstrate the proper use of safety equipment to all passengers, either in person or through a video recording before the plane takes off.
They also check that seatbelts are fastened, seats are locked in the upright position, and all carry-on items are properly stowed in accordance with federal law and company policy.
3. They Are Your Heroes in an Emergency
If you're going to work in this profession, your most important responsibility, however, is to help passengers in the event of an emergency.
This responsibility ranges from dealing with unruly passengers to performing first aid, fighting fires, protecting the flight deck, and directing evacuations.
Before the plane lands, flight attendants once again ensure that seatbelts are fastened, seats are locked in the upright position, and all carry-on and galley items are properly stowed.
Before they leave the plane, they survey the condition of the cabin. They submit reports on any medical, safety, or security issues that may have occurred during the flight.
4. Most People in This Popular Job Work for Airlines
Flight attendants held about 121,900 jobs in 2019.
Flight attendants work primarily in the cabin of passenger aircraft. Dealing directly with passengers and standing for long periods can be stressful and tiring.
Occasionally, flights encounter air turbulence, which can make providing service more difficult and causes anxiety in some passengers. Handling emergencies and unruly customers also can be difficult and cause stress.
They spend many nights away from home and often sleep in hotels or apartments shared by a group of flight attendants.
5. Injuries and Illnesses are High in This Occupation
Flight attendants have one of the highest rates of injuries and illnesses of all occupations.
To avoid injuries, these workers must follow safety procedures. For example, they must ensure that overhead compartments are closed, especially during turbulence, so that carry-on items don't fall and present a risk to all in the cabin.
Attendants also ensure that carts are properly stowed and latched during aircraft emergencies to avoid injuries to passengers and themselves.
6. They Work Long Days, Nights, Weekends and Holidays
They often work nights, weekends, and holidays. In most cases, a contract between the airline and the union determines the total daily and monthly workable hours.
A typical on-duty shift is about 12 to 14 hours per day. However, duty time can be increased for international flights.
The Federal Aviation Administration (FAA) requires that flight attendants receive at least 9 consecutive hours of rest following any duty period before starting their next duty period.
Attendants usually fly 75 to 100 hours a month and generally spend another 50 hours a month on the ground, preparing flights, writing reports, and waiting for aircraft to arrive.
They can spend several nights a week away from home. During this time, employers typically arrange hotel accommodations and a meal allowance. Some flight attendants work part-time.
7. Newbies Work On-call
An attendant's assignments of home base and route are based on seniority. New flight attendants must be flexible with their schedule and location. Almost all flight attendants start out working on call, also known as reserve status. Flight attendants on reserve usually live near their home airport, because they may have to report to work on short notice.
As they earn more seniority, attendants may have more control over their schedules. For example, some senior flight attendants may choose to live outside their home base and commute to work.
Others may choose to work only on regional flights. On small corporate airlines, flight attendants may work on an as-needed basis.
Flight Attendant Resume Sample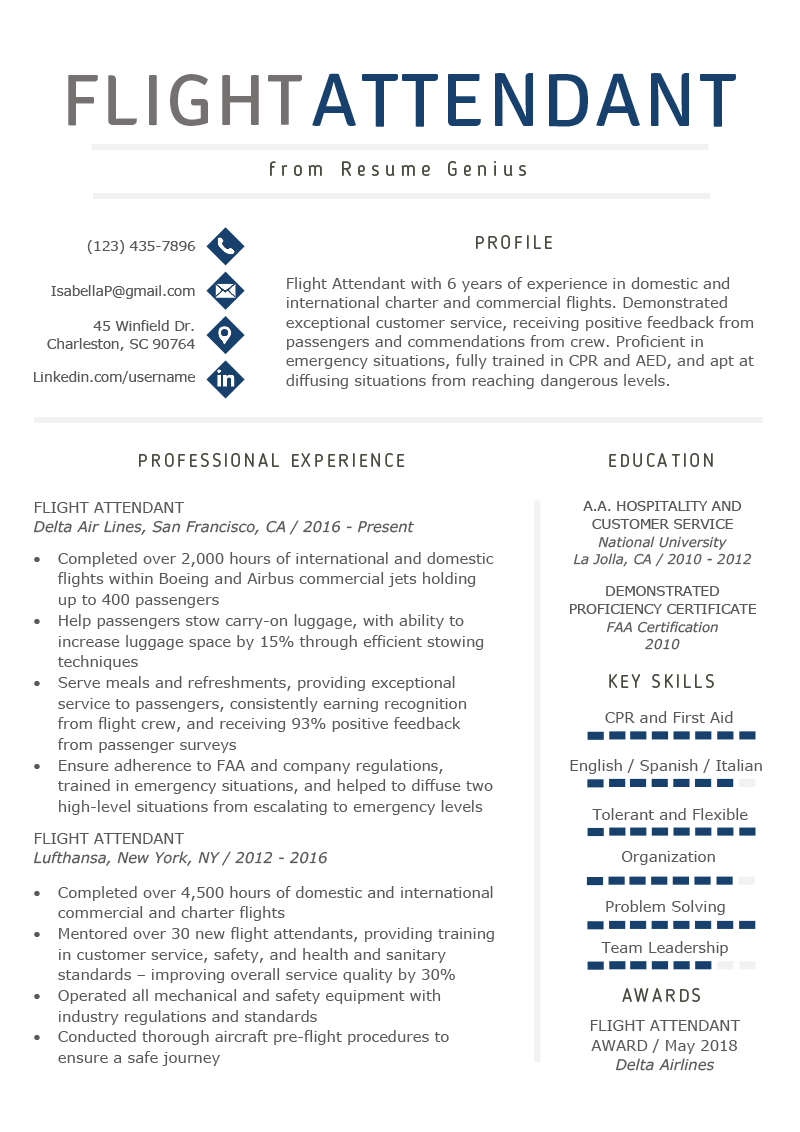 Flight Attendant Resume Keywords and Phrases
trained in first aid/rescue assistance.
Sell products or services.
Physical activities such as limbing, lifting, balancing, walking, stooping, and handling of materials.
Identifying information by categorizing, estimating, recognizing differences or similarities, and detecting changes in circumstances or events.
Using hands and arms in handling, installing, positioning, and moving materials, and manipulating things.
Monitoring and reviewing information from materials, events, or the environment, to detect or assess problems.
Handling complaints, settling disputes, and resolving grievances and conflicts, or otherwise negotiating with others.
Inspecting equipment, structures, or materials to identify the cause of errors or other problems or defects.
Providing information to supervisors, co-workers, and subordinates by telephone, in written form, e-mail, or in person.
Using relevant information and individual judgment to determine whether events or processes comply with laws, regulations, or standards.
Developing constructive and cooperative working relationships with others, and maintaining them over time.
When you write a resume or use a resume builder to build a resume, you want to match the resume words to the job description language. Keywords and phrases are a big part of this, but you also want to match the tone of your resume. For example American Airlines is somewhat formal and conservative, while Southwest Airlines is informal and conversational.
See how well your resume matches to the job you want. Try Jobscan's free resume comparison tool.
Job Interview: How to Answer Why Do You Want to Be A Flight Attendant?
8. A High School Diploma and a Passport is a Must
The Federal Aviation Administration certifies workers, who also need a high school diploma and 1-2 years of work experience in customer service.
Applicants must:
Be 18 years old or older
Be eligible to work in the United States
Have a valid passport
Pass a background check
Pass a drug test
Have vision that is correctable to at least 20/40 and often need to conform to height requirements set by the airline
Pass a medical evaluation
Present a professional appearance and not have visible tattoos, body piercings, or an unusual hairstyle or makeup.
Training
After being hired by the airline, 3-6 weeks of training is provided. Students go on practice flights. They must complete the training to keep a job with the airline.
After the initial training, new flight attendants receive the FAA Certificate of Demonstrated Proficiency and get additional on the job training.
Licenses, Certifications, and Registrations
All flight attendants must be certified by the FAA. To become certified, flight attendants must complete their employer's initial training program and pass an exam.
9. Do Flight Attendants make Good Money?
The median annual wage for flight attendants was $56,600 in May 2019. The median wage is the wage at which half the workers in an occupation earned more than that amount and half earned less.
They receive an allowance for meals and accommodations while working away from home.
The airlines usually pay for replacements and upkeep of uniforms and luggage.
They are eligible for discounted airfare or free standby seats through their airline.
The pay rate depends on seniority, the airline, number of hours worked and the contract with the union.
10. The Number of Attendants is on the Rise
Employment of flight attendants is projected to grow 8% from 2019 to 2029, faster than the average for all occupations. (This estimate was made before the Coronavirus Pandemic.)
Many airlines are replacing smaller aircraft with new, larger planes that can accommodate a greater number of passengers. As a result, this change may increase the number of flight attendants needed on some routes.
Job Prospects
Competition for jobs will remain strong because the occupation typically attracts many more applicants than there are job openings. Job prospects should be best for applicants with a college degree.
Flight Attendant Is the Best Job For ENFP Personality

ENFPs want to help people, but they also what to be able to express themselves. They love people and enjoy variety in their job. The no two days are the same kind of job is perfect for these creative, resourceful and pleasing individuals.
The life of the party in the best way, the ENFP or Campaigner, is truly a free spirit. They, like the INFJ want to have a personal connection with the people they work with. The ENFP is that charming friend who knows how to have fun and always makes sure you have a good time too.
But it is not just your personality type that makes this job a good fit. A flight attendant job fulfills certain work interests and values you have. According to O*NET Interest Profiler results, it would be a good match for people whose interests are ESC.
Don't know your personality type or job interests? Take the tests. 16Personalities and the O*NET Interest Profiler
Other Jobs for ESC O*NET Profiler Interests
Flight Attendant and Work Values Fulfilled
Job description and data provided by the Bureau of Labor Statistics, U.S. Department of Labor, Occupational Outlook Handbook, Flight Attendants.