You can apply for Walmart store jobs online or at a Kiosk in the store. Unfortunately, Walmart does not accept paper applications for its hourly positions. But, the giant discount retailer has more than 11,000 stores worldwide as of 2020, which means thousands of job openings.
In this guide, we are going to walk you through how to apply to store job positions, which have a starting pay of $11 per hour.
Walmart Store Jobs
The store jobs, which are also called retail jobs, are grouped into the following categories:
For the purposes of this guide, we're going to take a closer look at the Hourly Retail Jobs. When you click on the hourly retail job link, you'll see this page below, or an updated variation of this page that we have made of screenshot of.
If you want to see all of the jobs you can apply for, then click the button to see all job openings. If you are looking for a specific type of Walmart retail job, then scroll down the page to this area:
Types of Walmart Store Jobs
As you can see from the photo above, Walmart store jobs are not limited to cashiers. In fact, there are many types of retail jobs to apply to. You can find the job description and a link to apply at the links below.
After you decide which type of job you want to apply for, you'll then hit the apply button on the page. Then you'll be directed to the store job application portal.
How to Apply for Walmart Store Job
Step 1. Agree to the Disclaimer
After hitting the apply button to a specific job or on the job category page, you'll see a disclaimer. Next, you'll want to carefully read the disclaimer regarding hiring practices, drug testing, sharing your information and opting in to receive correspondence on your phone.
You agree to a drug screening and a criminal background check.
If you submit your mobile number, you will also be automatically enrolled to receive texts from Walmart recruiting. Data and messaging rates may apply.
You will be disqualified from a job or terminated if you misrepresent yourself on your application.
If you agree to the terms and conditions, check the agree box. Then submit your answer.
Step 2. Login to the Store Jobs Applicant Area or Create an Account
After hitting the submit button on the disclaimer, you'll be directed to the Walmart Hiring Center. It looks something like this:
In this example, we are applying for a cashier job for the first time ever.
Creating a New Account
You'll have to do this step whether you visit Walmart's Hiring Center online or apply at a Hiring Kiosk in a Walmart store.
To create a new account you need:
an email address
to create a password
BONUS TIP: When searching for jobs, set up a gmail account specifically for employers to contact you. Use a professional email address such as your_name@gmail.com.
After filling in your email address, a password and confirming your password hit the create account button.
You will have to confirm your email address before you can log in to your account. Follow the instructions Walmart gives you.
Login to Your New or Existing Account
Type in your email and password that you just used or previously used to create your account. If you haven't logged into your account for several months, then you will be prompted to reset your password.
Step 3. Fill Out Basic Applicant Information. 
The first time you apply for Walmart, you will fill in your contact information, shift availability and store and or job preference. Next, you'll choose the locations where you want to work.
Fill Out Your Profile
Due to COVID-19, Walmart has streamlined its application process. After you fill out basic info, you will need to include your employment history. The form is straightforward and easy to fill out.
Step 4: Look for Jobs in Your Area
You can select possible jobs from a list of current openings and from a list of future openings.
Step 5: Apply
What About Walmart Corporate Jobs?
In addition to store jobs, there are also corporate jobs that you can apply for Walmart. In the list of links below, you'll see each job category. When you click on the link, you'll see specific job titles. Next you'll want to click on the job title to see the job openings. It's important to note that most of these jobs are located in Bentonville, Arkansas, the worldwide headquarters of Walmart.
Merchandising and eCommerce Jobs | Walmart Careers
Follow these first few steps for applying for a Walmart store job online or in-store. Here is a picture of the Walmart application PDF and a link to the Walmart application only.
Walmart Application Only
Click the picture below to go to a fillable PDF job application. However, Walmart does not accept paper applications for hourly positions.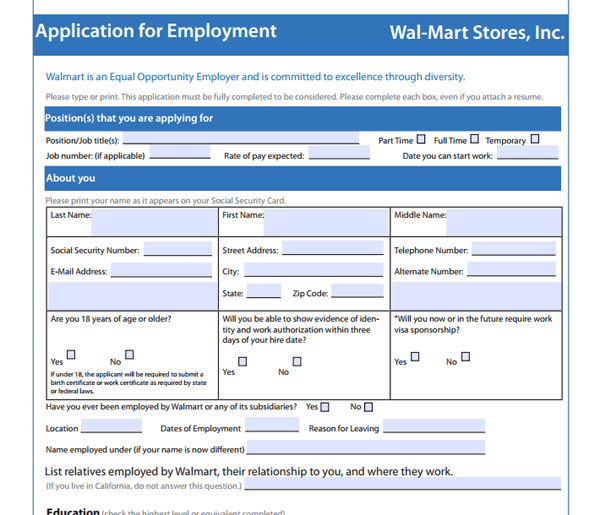 Bonus Tip: When applying for a retail job, you're more likely to get work if you can work overnight, weekends and evenings.
Walmart Assessments
Some jobs and experience levels require you to take an assessment. Proceed through the quick slideshow presentation and set aside about 30 minutes. The test is a mix of skill and personality test. This is what the Cashier test was like.
Section 1: Customer Service
The video gives you an idea of how you pass the Walmart hiring assessment. The first part of the test gives you scenarios that involve customers and co-workers. You are asked to choose one solution or answer that is least helpful and one that is most helpful.
These are the types of questions where there is no overtly wrong answer. The answers are similar. Read the questions carefully and think them through.
What action most helps the customer?
What would cause the customer to be more annoyed?
What is the most professional way to handle a situation?
What makes your manager look good?
Section 2: Can You Make Change?
The next section tests your change-making skills. The assessment gives you an amount change you need to count. Example: $15.66. You chose from stacks of bills and coins the correct amount of each to equal the money.
For this example, you would choose one $10, one $5, two quarters, one dime, one nickel and one penny to make $15.66.
Section 3: Work Experiences
This section of the Walmart assessment revolves around general work history-related questions. They are based on the experiences you have had. Read each question carefully and choose the best of the multiple choices.
Section 4: This is the Personality Part of the Test
The last section is the longest. You will be given a series of characteristics and the opposite of them. You choose if you do these things sound most like you or least like you. It's important to be honest.
Applying for Walmart Jobs Later
Creating an account and filling in the initial application takes time, but once you have an application, you can apply to other Walmart jobs in a variety of roles and facilities. These include Sam's Club, Distribution Centers or the corporate office.
Related Questions:
Do I need a resume/CV to apply to all jobs at Walmart?
No. Hourly jobs do not require a resume or CV in order to apply. But it is helpful to reference one as you fill in your job history and skills on the application itself. You can also upload your resume to populate your application.
How Long Does it Take To Hear From Someone After I Submit My Application?
When you apply for Walmart jobs, it can take 30-60 days to hear from the hiring manager. Some positions take less time, but if you haven't heard back after 60 days, reapply or search for another opportunity.
Once you have an interview, it could take an additional two weeks before you can attend orientation.
Can I Call the Walmart Hiring Center?
For assistance with submitting an application contact the Walmart candidate helpline at 800-955-7267, open M-F 7 a.m.-4 p.m. CST.
Recent Walmart Jobs
Search for Walmart Jobs Near You