Samuel Langhorne Clemens known by his pen name Mark Twain, was praised as the greatest humorist this country has produced and was called the father of American Literature. He is also known for his matter-of-fact observations about life and people. A quotable man whose insights still ring true.
Mark Twain at a Glance
Born
Nov. 30, 1835
Florida, MO
Died
April 21, 1910
Redding, Conn.
Career
Writer, humorist, entrepreneur, publisher, lecturer
Notable works
The Adventures of Tom Sawyer
Adventures of Huckleberry Finn
Family
Olivia Langdon Clemens, wife (m. 1870; died 1904)
4 children
Early Career As a Typesetter, Riverboat Pilot, Miner and Journalist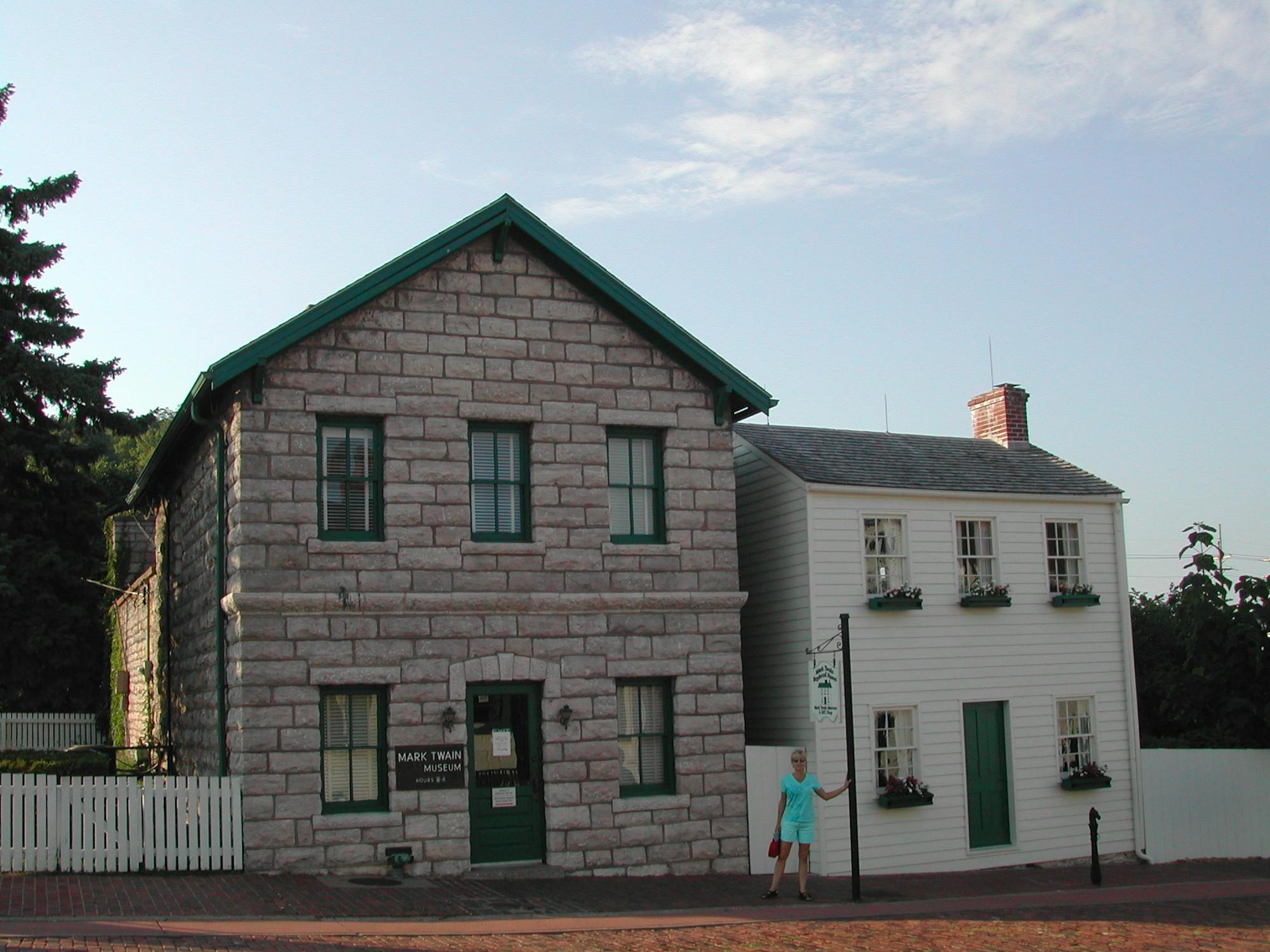 Twain was raised in Hannibal, Missouri, which later provided the setting for Tom Sawyer and Huckleberry Finn. He served an apprenticeship with a printer and then worked as a typesetter, contributing articles to the newspaper of his older brother Orion Clemens.
He later became a riverboat pilot on the Mississippi River before heading west to join Orion in Nevada. He referred humorously to his lack of success at mining, turning to journalism. His humorous story, "The Celebrated Jumping Frog of Calaveras County", was published in 1865.
The short story brought international attention. His wit and satire, in prose and in speech, earned praise from critics and peers, and he was a friend to presidents, artists, industrialists, and European royalty.
Twain describes his boyhood in Life on the Mississippi, stating that "there was but one permanent ambition" among his comrades: to be a steamboatman.
Pilot was the grandest position of all. The pilot, even in those days of trivial wages, had a princely salary – from a hundred and fifty to two hundred and fifty dollars a month, and no board to pay.
As a young pilot, Clemens served on the steamer A. B. Chambers. He piloted steamboats for a while and had his younger brother join him on one of the boats. But an explosion would kill his brother and send Twain to work with his brother Orion was Secretary of the Nevada Territory. Twain describes the episode in his book Roughing It.
Twain became a miner on the Comstock Lode. He failed as a miner and went to work at the Virginia City newspaper Territorial Enterprise, working for a friend. He first used his pen name Mark Twain here.
What Does Mark Twain Mean?
Mark Twain the Writer
His experiences in the American West inspired Roughing It, written during 1870–71 and published in 1872. His experiences in Angels Camp (in Calaveras County, California) provided material for "The Celebrated Jumping Frog of Calaveras County" (1865).
Twain moved to San Francisco in 1864, still as a journalist.
His first success as a writer came when his humorous tall tale "The Celebrated Jumping Frog of Calaveras County" was published on November 18, 1865, in the New York weekly The Saturday Press, bringing him national attention.
A year later, he traveled to the Sandwich Islands (present-day Hawaii) as a reporter for the Sacramento Union. His letters to the Union were popular and became the basis for his first lectures.
Mark Twain's Writing Successes
Twain's The Adventures of Tom Sawyer draws on his youth in Hannibal. Tom Sawyer was modeled on Twain as a child. The book also introduces Huckleberry Finn in a supporting role.
The Prince and the Pauper was not as well-received, despite a storyline that is common in film and literature today. The book tells the story of two boys born on the same day who are physically identical, acting as a social commentary as the prince and pauper switch places.
The Adventures of Huckleberry Finn confirmed him as a noteworthy American writer. Some have called it the first Great American Novel, and the book has become required reading in many schools throughout the United States. Huckleberry Finn was an offshoot from Tom Sawyer and had a more serious tone than its predecessor.
The Mark Twain House Museum
You can see the Mark Twain Housse and Museum which is located in Hartford, Conn. The Hartford home was the majestic home to Mark Twain and his wife Olivia"Livy" Langdon Clemens.
"To us, our house… had a heart, and a soul, and eyes to see us with; and approvals and solicitudes and deep sympathies; it was of us, and we were in its confidence and lived in its grace and in the peace of its benediction."

Mark Twain
If you are an aspiring or established writer, you may want to put writing in Mark Twain's library on your bucket list. For $50, you can have 3 hours of uninterrupted writing time in the beautiful library that was once home to one of the greatest American writers. See what he has to say about using strong words and get 42 action words for your resume.
Mark Twain Quotes
"I haven't a particle of confidence in a man who has no redeeming petty vices whatsoever."
"Reader, suppose you were an idiot. And suppose you were a member of Congress. But I repeat myself."
"The difference between the right word and the almost right word is really a large matter — it's the difference between a lightning bug and the lightning."
"Loyalty to petrified opinions never yet broke a chain or freed a human soul in this world — and never will."
"As I slowly grow wise I briskly grow cautious."
"All you need in this life is ignorance and confidence, and then success is sure."
"If you tell the truth you don't have to remember anything."
"A round man cannot be expected to fit in a square hole right away. He must have time to modify his shape."
"Humor is the great thing, the saving thing. The minute it crops up, all our hardnesses yield, all our irritations and resentments flit away and a sunny spirit takes their place."
"Get your facts first, and then you can distort them as much as you please."
"I was sorry to have my name mentioned as one of the great authors, because they have a sad habit of dying off. Chaucer is dead, Spencer is dead, so is Milton, so is Shakespeare, and I'm not feeling so well myself."
"We believe that out of the public school grows the greatness of a nation."
"Honesty is the best policy — when there is money in it."
"Always do right. This will gratify some people, and astonish the rest."
"The only reason why God created man is because he was disappointed with the monkey."
"A powerful agent is the right word. Whenever we come upon one of those intensely right words in a book or a newspaper the resulting effect is physical as well as spiritual, and electrically prompt."
"I have been complimented many times and they always embarrass me; I always feel that they have not said enough."
"Thunder is good, thunder is impressive; but it is lightning that does the work."
"Clothes make the man. Naked people have little or no influence on society."
"It is not worthwhile to try to keep history from repeating itself, for man's character will always make the preventing of the repetitions impossible."
"A man is never more truthful than when he acknowledges himself a liar."
"The source of all humor is not laughter, but sorrow."
"Never have a battle of wits with an unarmed person."
"My works are like water. The works of the great masters are like wine. But everyone drinks water."
"Be careful about reading health books. You may die of a misprint."
Mark Twain Prize for American Humor
The Kennedy Center Honors awards the Mark Twain Prize for American Humor.
The award recognizes individuals who have had an impact on American society in ways similar to the distinguished 19th-century novelist and essayist Samuel Clemens, best known as Mark Twain.

As a social commentator, satirist, and creator of characters, Clemens was a fearless observer of society, who startled many while delighting and informing many more with his uncompromising perspective on social injustice and personal folly.
The most recent Mark Twain award winner was Dave Chappelle. Other recipients have been David Letterman, Ellen DeGeneres, Eddie Murphy and Tina Fey.
Biographical information was adapted from this page and follows the following guidelines for adaptation and reuse.