Teacher assistants work with a licensed teacher to give students additional attention and instruction. They can assist a preschool, elementary, middle, or secondary school teacher with instructional duties. The teacher keeps the main responsibility to design and implement of educational programs and services. The average salary of teacher assistants is $29,640 a year.
Teacher assistants is an artistic profession, in that it requires someone who is comfortable expressing ideas and concepts to people. ESFJ personality types are a good match for this profession.
Affirmations for Teacher Assistant Job Search
Teacher assistants also called teacher aides, paraprofessionals, paraeducators or instructional aides. Here are affirmations to use as you get ready to find a teacher assistant job.
I reinforce lessons in the classroom.
I give students the added attention they need.
I love helping teachers by doing routine tasks like taking attendance.
I keep detailed records and am a valuable source of information.
I prepare the classroom for what the day has in store.
I keep a close eye on what my students are doing in the lunchroom and outside.
I love working with children and seeing them learn.
My students love me.
I give students support with encouraging words and a smile.
I make a difference in children's lives.
My teacher appreciates the work I do.
Being a teacher assistant is a rewarding career.
I enjoy working with people.
I help struggling students build their self-confidence.
I teach children skills they can use their whole life.
My work makes me happy.
Teacher assistants work with or under the guidance of a licensed teacher. They may provide feedback to teachers for monitoring student progress. Some meet regularly with teachers to discuss lesson plans and students' development.
National Teachers Assistants Day is Sept. 16.
What You Need to Qualify for a Teacher Assistant Job
Education
Teacher assistants in public schools need at least 2 years of college coursework or an associate's degree. Those who work in schools with a Title 1 program (a federal program for schools that have a large proportion of students from low-income households) must have at least a 2-year degree, 2 years of college, or pass a state or local assessment.
Associate's degree programs for teacher assistants prepare participants to develop educational materials, observe students, and understand the role of teaching assistants in working with classroom teachers.
Most states require teacher assistants who work with special-needs students to pass a skills test.
Licenses, Certifications, and Registrations
Some jobs may require staff to have certifications in cardiopulmonary resuscitation (CPR) and first aid.
Career Advancement
Teacher assistants may become a kindergarten and elementary school teacher, middle school teacher, high school teacher, or special education teacher upon obtaining additional education, training, and a license or certification.
Teacher Assistant Salary
Half of the teacher assistants made more than $27,920 per year in May 2019. The lowest 10 percent earned less than $$18,940, and the highest 10 percent earned more than $43,040.
Some teacher assistants work part-time. Some monitor students on school buses before and after school. Although many do not work during the summer, some work in year-round schools or assist teachers in summer school.
Job Outlook: Average Growth
Employment of teacher assistants is projected to grow 4 percent from 2018 to 2028, about as fast as the average for all occupations. Rising student enrollment along with state and federal funding for education programs should affect growth.
Teacher assistants are more of a supplementary position, as opposed to teachers, who hold a primary position. Therefore, teacher assistants' employment opportunities may depend on school districts' budgets.
In addition to job openings due to employment growth, numerous openings will arise due to turnover.
Teacher Assistant Resume Samples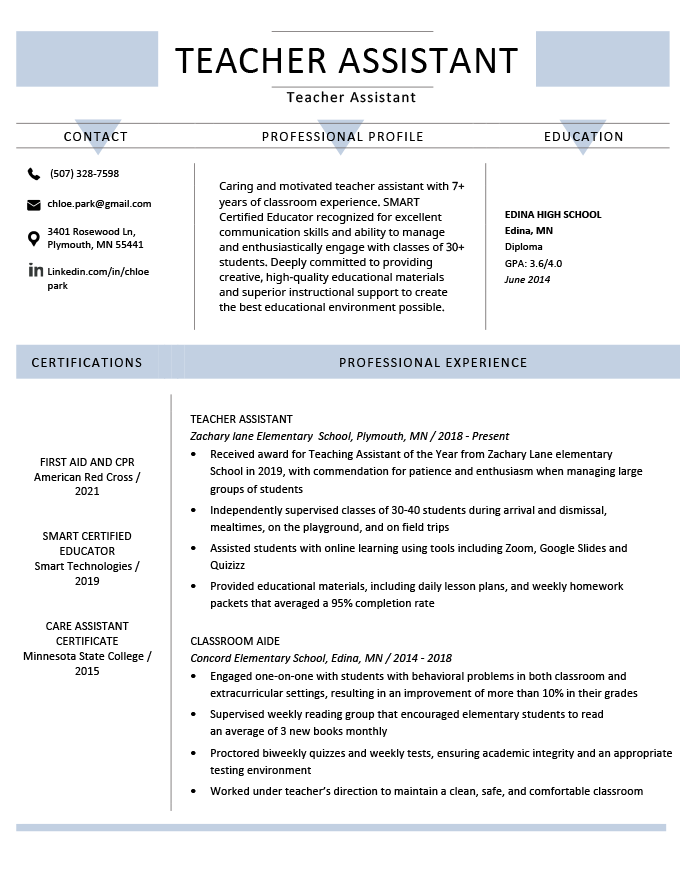 Job Duties to List on Resume
For more information about teacher assistants, visit
National Education Association
American Federation of Teachers
National Resource Center for Paraeducators
Recent Posts